A luxury trip to Val d'Orcia is the ultimate getaway to Italy. The Val d'Orcia region in Tuscany is a breathtaking landscape that seems straight out of a dream.
Its rolling hills with cypress trees, charming medieval towns, lush vineyards, and ancient olive groves create a picture-perfect setting that captivates the hearts of travellers. Find out more about the enchanting beauty of Val d'Orcia and its gems and learn why it remains a quintessential destination in Italy.
Get ready to indulge in a luxury experience that combines opulence with the region's authentic charm. Take a trip into beauty, gastronomy and culture and start planning with us your next exclusive travel among the hills of Val d'Orcia.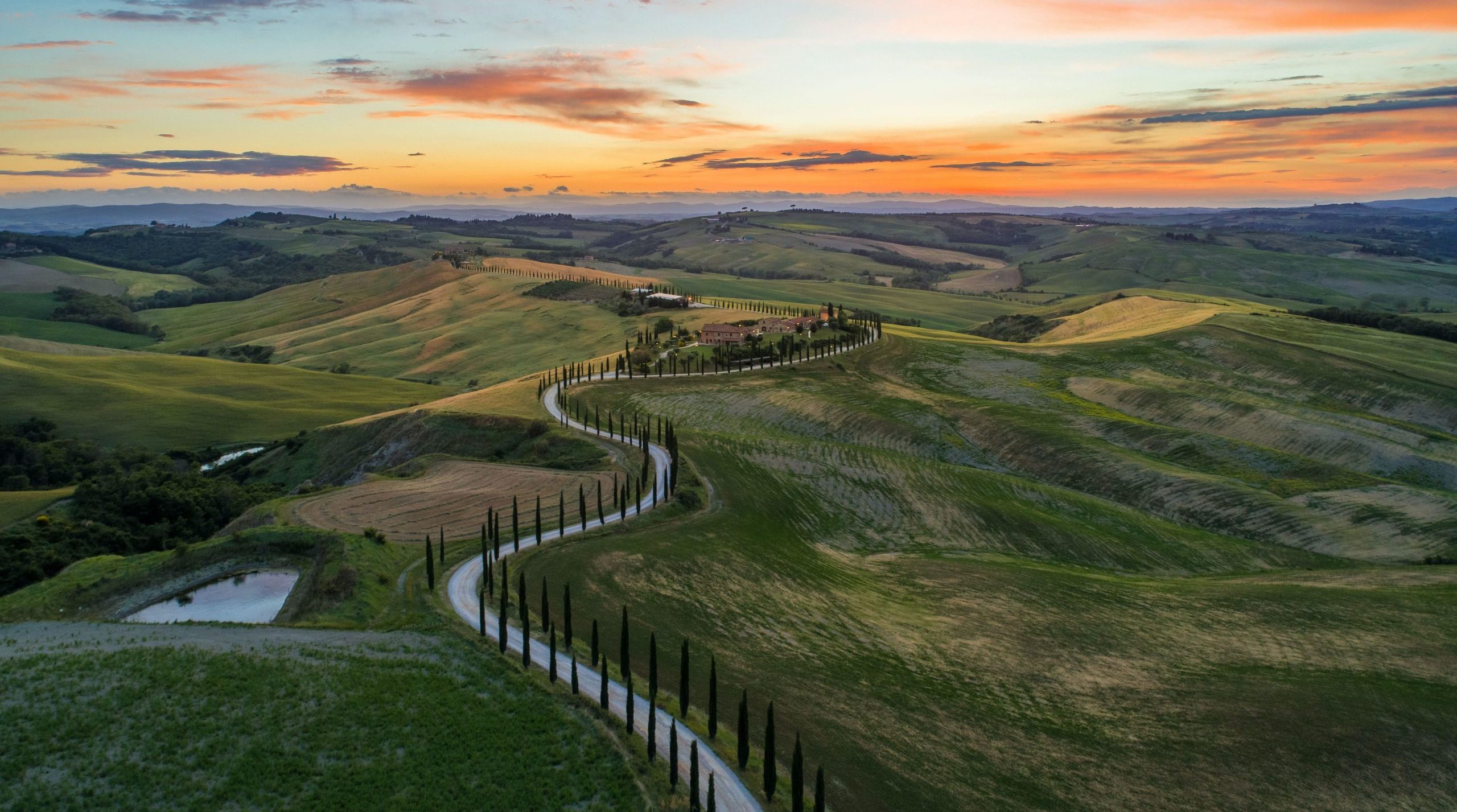 The Enchanting Beauty of Val d'Orcia
The hills of Val d'Orcia
The canvas of rolling hills in Val d'Orcia is a UNESCO World Heritage site. Here, the mesmerising panorama of the region's gentle, undulating hills, adorned with cypress trees and vineyards, has inspired countless artists and photographers. Delve into how the region's scenic beauty and rich history have inspired artists, writers, and filmmakers over the centuries. To mention one? Ridley Scott's "Gladiator" was shot in the surrounding of Pienza, where you can find the Campi Elisi and Maximus Decimus Meridius' home.
Towns and villages to discover in Val d'Orcia
In Val d'Orcia you can also delve into the area's rich history, the traditions and stories passed down through generations. Take your time to visit Siena, the principal city of the Region. It is a Renaissance jewel renowned worldwide for the Palio, the horse competition that runs on the 16th of August in Piazza del Campo, and for its stunning Cathedral.
The Cathedral of Siena is a gem of Gothic architecture. Completely covered with marble and decorated with statues of kings, prophets and sybils, the Cathedral was built in the XI-XIII century. Although the exterior of the building is spectacular, the wonder is on the inside. The Cathedral's floor is a true masterpiece: is an inlaid mosaic of coloured marble pieces that leaves visitors speechless. The mosaic floors are covered for most of the time, but they will be unveiled from August to October – do not miss the visit!
But the Val d'Orcia is also about historic towns and borgos. Your luxury holiday in Val d'Orcia is the perfect opportunity to discover its hidden gems. Engage in private guided tours to explore lesser-known medieval villages such as Pienza, Montalcino, and Montepulciano, known for their architecture, art, and delectable cuisine. Explore the ancient castles that dot the hills and discover hidden trails that offer uninterrupted views of the region's iconic cypress-lined roads.
Iconic Landmarks to see
Besides towns and villages, there are many iconic landmarks and places to see during your travel around the hills of Val d'Orcia.
In Val d'Orcia, even the car trip is worth its time. Enjoy the ride as you drive along the cypress-lined roads and take your time for a shooting with the stunning views. Our favourite route is the road that goes from Pienza and Montichiello: every curve provides a new sight on the hills.
This road leads to another iconic landmark of Val d'Orcia. You get to the Quercia delle Checche, a century-aged oak tree which is considered the first vegetal monument of Italy. The tree is majestic: it is about 22 meters high and dominates the landscape.
Finally, you can find a postcard panorama not far from Pienza. The Madonna della Vitaleta Chapel is immersed in the Tuscan countryside, rounded by a romantic atmosphere as the sun sets, but also the destination for a walk into nature during the day.
Your luxury trip to Val d'Orcia
Exclusive accommodation in Val d'Orcia 
Make your trip to Val d'Orcia unforgettable with an exclusive stay in one of the exquisite accommodations. Exclusive and luxurious resorts, boutique villas, and elegant country estates dot the landscape and blend with the natural surroundings. Picture waking up to the sun rising over the hills, or sipping fine wine as the sun sets over the vineyards. Sound dreamy, doesn't it?
Moreover, take the chance to unwind and immerse yourself in the serene ambience of the region's luxury spa retreats. These wellness centres offer an array of pampering treatments that utilise natural ingredients like olive oil and thermal water. Surrender to relaxation as skilled therapists soothe your senses. They will leave you rejuvenated and ready to embrace the beauty of Val d'Orcia.
Food&Wine experience
Your experience in Val d'Orcia would not be complete without a dip into its gastronomic tradition. Italian cuisine is famous worldwide, and Val d'Orcia takes pride in its gastronomic offerings. Indulge in a culinary journey as you savour exquisite Tuscan dishes prepared with fresh, locally-sourced ingredients. Many luxury experiences we can arrange in Val d'Orcia include private cooking classes with renowned chefs. With them by your side, you can learn the art of creating traditional Italian delicacies. Furthermore, wine enthusiasts can explore prestigious wineries and taste world-class Brunello di Montalcino and Nobile di Montepulciano.
Tailor-made Experiences in Val d'Orcia
The luxury experience in Val d'Orcia is all about exclusivity. We can tailor you an itinerary that includes private hot air balloon rides, helicopter tours, horseback riding and vintage car tours through the dreamy landscape. Touring around the Val d'Orcia from unique perspectives will provide you with memories that will last a lifetime.
Val d'Orcia embodies the essence of the Tuscan dream. It is a place where you can live a luxury experience in the timeless allure of the Tuscan countryside. From accommodations surrounded by natural beauty to exclusive tours and indulgent culinary delights, we carefully craft every aspect of your luxury trip to Val d'Orcia. It will be a once-in-a-lifetime experience.
Embrace the tranquillity and let the magic of Val d'Orcia enchant your soul as you embark on an unforgettable journey.
Contact us for a tailor-made quotation and make your dreamy travel to Val d'Orcia come true.