In the last few days, the Altopiano delle Murge was under the World's eye due to Gucci Fashion Show, which was on stage at the Castel del Monte fortress.
That's why this week we take you to this amazing place to unveil all the secrets it has to disclose. Are you ready to fall in love?
Located between Apulia and Basilicata, the Altopiano delle Murge is a huge karst formation. It represents the highest relief complex of the Region, even if the highest peak is only 684 meters high.
Since 2004, the northern part of this area belongs to the Alta Murgia National Park, the very first "Rural park". It aims to protect the territory and its biodiversity, but also its rural culture. Indeed, it preserves country houses (the typical masserie) and ancient traditions.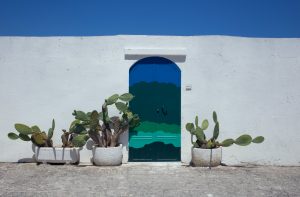 The Altopiano delle Murge and its little gems
Regarding the natural heritage, the Bauxite cave and the Caves of Castellana which develop inside the karst formation will amaze you.
Furhetmore, among the beauties of the Apulia Region we can find the little town of Altamura, famous worldwite for the typical DOP bread. Moving to the Itria Valley, also Locorotondo and Cisternino deserve a mention since they embody the true essence of Apulia. Get lost in the white and narrow streets of the city center!
From here you will easily reach Alberobello surrounded by olive trees and wineyards. Don't miss the chance to book a stay inside its typical trulli!
In the green of the countryside, protected by the Aragonian walls the White City of Ostuni stands out. Its name derives from the optical colour of the houses in the city center: they seem to sparkle!
Together with the green and the white, the blue of the sea is the third predominant colour in Apulia. Here, the little fishermen borgos like Monopoli and Polignano a Mare are among the most famous sea destination of the area.
To crown your fairytale trip in the Altopiano delle Murge, Castel del Monte awaits you. The site belongs to the UNESCO heritage list and has a peculiar octogonal map with a tower at every angle.
Its legendary aura will charm you in the same way it enchanted Gucci, who choose this fortress to present "Cosmogonie", the new collection of the Fashion Maison. The event gathered together more than 400 guests and international VIP: we talked about it on our last post!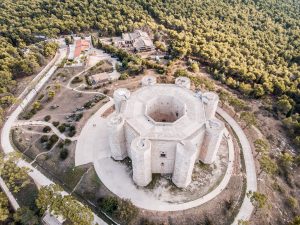 Are you excited about your next trip to the Altopiano delle Murge? We are too and cannot wait to start planning your amazing visit here!
Click here to get in contact with your personal travel consultant and start living your dream!