When the end of spring approaches, Spello's Infiorate bloom out.
After a two-year pause due to the pandemic situation, in the last two weeks the Umbrian borgo's narrow streets covered with an amazing carpet made of floral petals.
The Infiorate take place in combination with the Feast of Corpus Christi. In this occasion, artists and professionals gather together and during the night they work hard to create a handmade masterpiece. It will blossom all around the town and amaze people from sunrise to dawn.
The operas need months of planning, research and harvest of floral and vegetable elements. In the end they look like paintings and represent religious scenes dedicated to Jesus' life.
Spreading all around, the Infiorate charm visitors and tourists with their scents and vivid colours since the first years of the XX century. Today, the event celebrates the religious celebration, but it is also a competition among the artists that join it. The winner is the one who distinguish himself for his originality, precision and technical skills.
In this year manifestation concerts, photographic exhibitions, guided tours and related events completed the rich calendar of appointments that animated the borgo. The event closed with the award ceremony in the picturesque Saint Andrew yard. This year, Alessandro Fuso and its masterpiece "Arco Romano" conquered the Properzio trophy.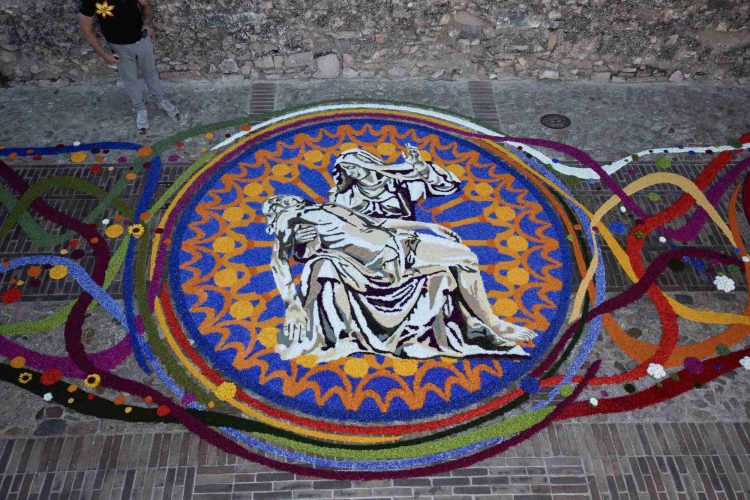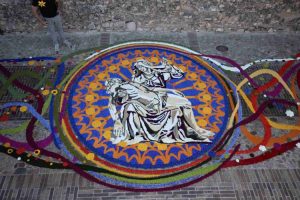 Even if the event is mainly for artists and professionals, the last two years witnessed the participation of tourists from all around the World. Thanks to the support and advice of Masters, you will have the opportunity to become the protagonist. Do not miss the chance to express your artistic vein in a very unusual way!
Spello's Infiorate take place every year in June. Start planning your trip with us to have the best Italian Experience!